I found some pesto-in-a-jar at the upscale supermarket in the basement of the Lotte department store (which I can go through when exiting the subway station at Jeongbalsan).   Earlier today I took some rye toast (made from that dark Russian bread I buy sometimes in Seoul's "russiatown" as I call it) and spread the pesto on it. It was really delicious. I'm sure both Russians and Italians would be offended, not to mention Koreans.  I often like to imagine concocting odd cultural mixes:  lately I've been imagining making tteokbokki but with a Mexican-style mole poblano sauce. Seems like it would be delicious. I also occasionally concoct strange bibimbaps, using whatever's on hand. I put peanuts in about a week ago, and it was pretty good.
I found a cellphone pic that I had taken of a bank advertisement I saw in "russiatown."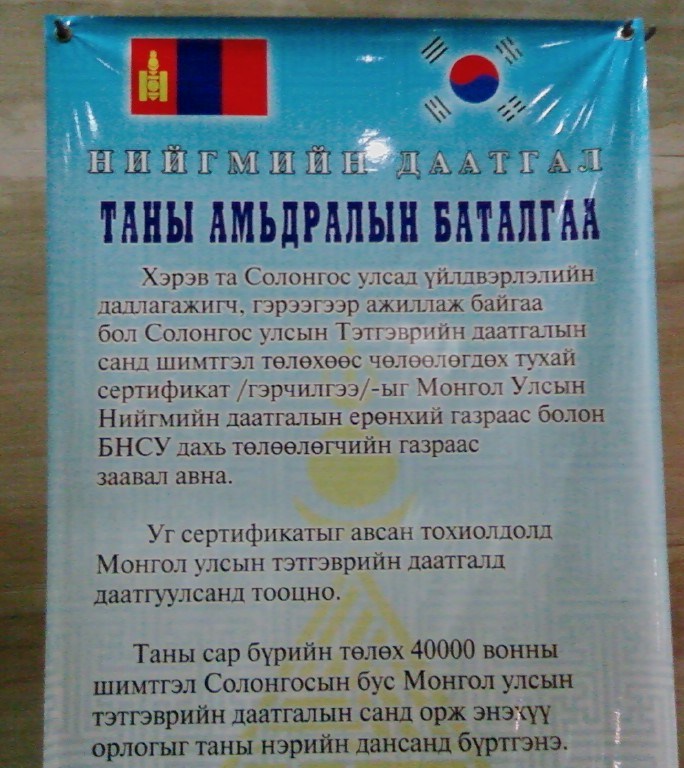 It's in Mongolian. Why do I think this kind of thing is cool? It's stupid, really – you can see Mongolian anytime you want, just surfing around the internet.
Maybe it's the same reason I find it easier (if only slightly easier) to try to learn Korean from signs and advertising and boring work-memos than from textbooks: it's because it's somehow more real. Relevant. Someone, somewhere, didn't construct this sample of language just to instruct, but to communicate with other users in a concrete context I can identify in my physical environment.