I have a vivid memory of having posted this before. I drew it in 2009, I believe, or late 2008. I can't find it on this here blog, and I ran across the paper copy recently in some old papers I was going through. So I'll post it again.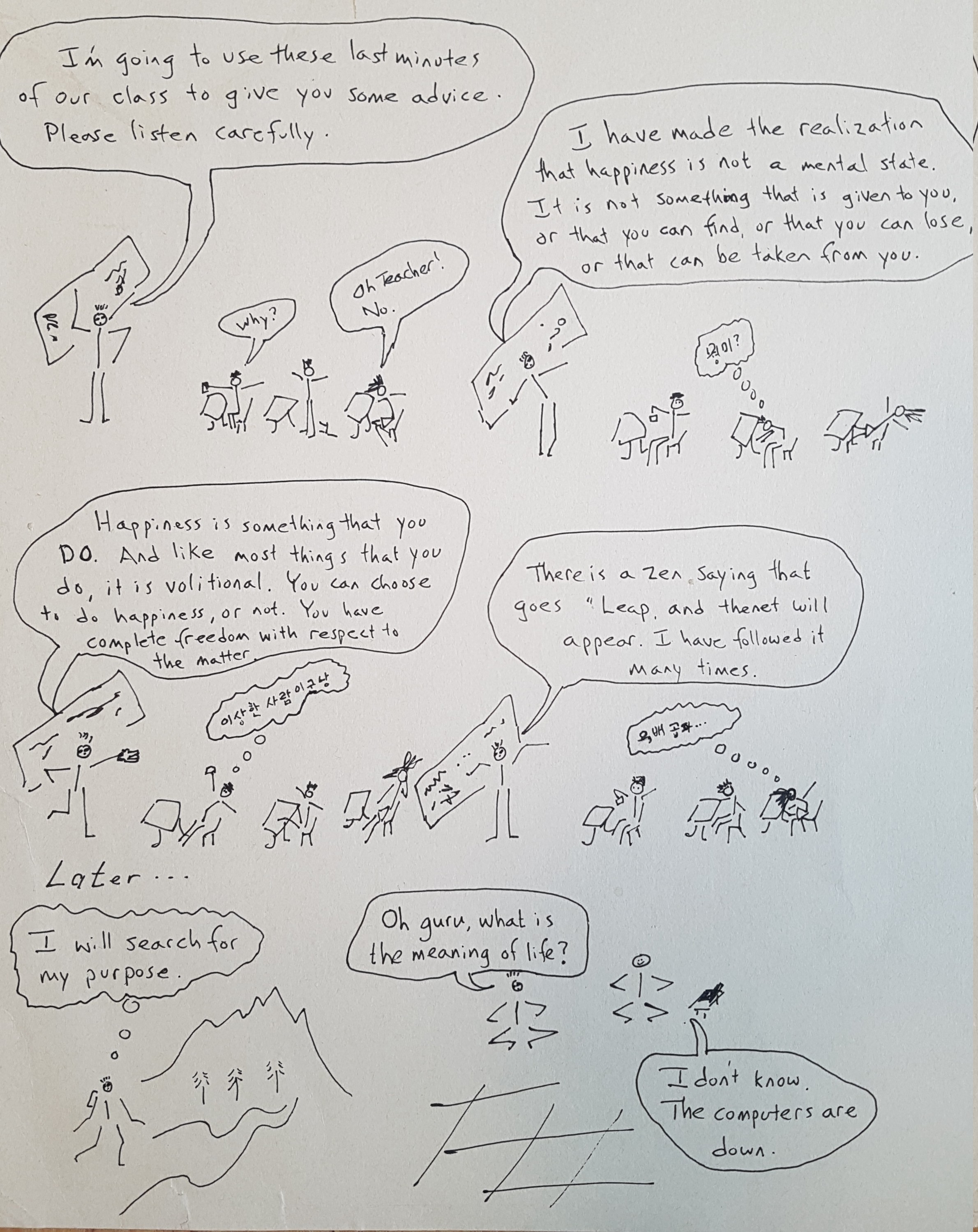 I'll also post the text of it, this time, so that it is more "searchable" in the future.
Teacher says: "I'm going to use these last minutes of our class to give you some advice. Please listen carefully."
Student 1 says: "Why?"
Student 2 says: "Oh Teacher! No."
Teacher: "I have made the realization that happiness is not a mental state. It is not something that is given to you, or that you can find, or that you can lose, or that can be taken from you."
Student 2 thinks: "뭥미?" [What is this shit?]
Teacher says: "Happiness is something that you DO. And like most things that you do, it is volitional. You can choose to do happiness, or not. You have complete freedom with respect to the matter."
Student 1 thinks: "이상한 사람이구낭." [Jeez, this guy is weird]
Teacher says: "There is a zen saying that goes, 'Leap, and the net will appear.' I have followed it many times."
Student 3 thinks: "오, 배곱하…" [Ugh, I'm hungry… (I've misspelled the Korean)]
Later…
Teacher thinks: "I will search for my purpose."
Teacher says: "Oh guru, what is the meaning of life?"
Guru says: "I don't know. The computers are down."
This comic is the origin of the "distillation of my personal philosophy" that appears at the end of my little "author bio" that is in the right-hand column of this blog's current incarnation.