I found this on the board coming into the Thursday iBT class yesterday.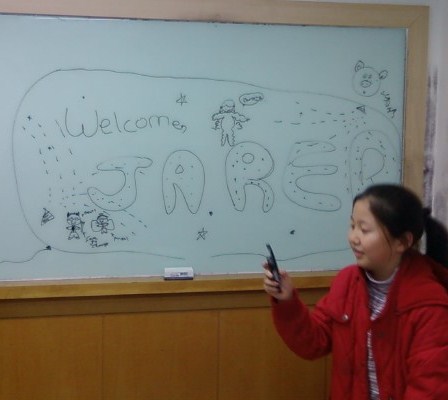 That's Ellie in the picture. She's the closest thing to a native English speaking student that we have at LBridge. She lived in Germany for many years, and attended an International school, there. So, she's a Korean girl who speaks English with a German accent, although a coworker who knows quite a bit of German reported to me that Ellie's German is much worse than her English. I guess just being there rubbed off on her pronunciation.
A while back, the following dialogue took place, in a different class:
Jenny: Monday is my birthday!
Jared: How old will you be?
Jenny: I don't know exactly. Maybe I'm 13?
A note about Korean ages: you should subtract at least one year from Korean ages, because when babies are born, they are one year old. Also, typically, despite the fact that they DO celebrate birthdays, they will state their ages as if they changed on January first. The net result is that there is a 1 to 2 year difference between a Korean's stated age and an American's stated age. Perhaps Jenny is confused about her age because she is aware of this. But I doubt it. It's just kind of her personality.