The VW corporation is officially retiring the Beetle after 70 years.
Actually, they retired the model once before but then resurrected it in the form of the New Beetle. And in fact the old Beetles lived on in countries like Mexico and Brazil. In Mexico, for example, I believe they only stopped manufacturing old Beetles in 2003, while in Brazil, they continued to be made until 2006.
I have owned 5 cars in my life. 3 of them were Beetles (old types). It's the only car where I was able to take apart and put the engine together successfully. I lived in my Beetle for a summer in 1985.
The first bug I owned had been my mom's before it was mine. We traveled in it across Canada in 1977. The car was known as "Betsy."
Here is Betsy in Ontario in the summer of 77.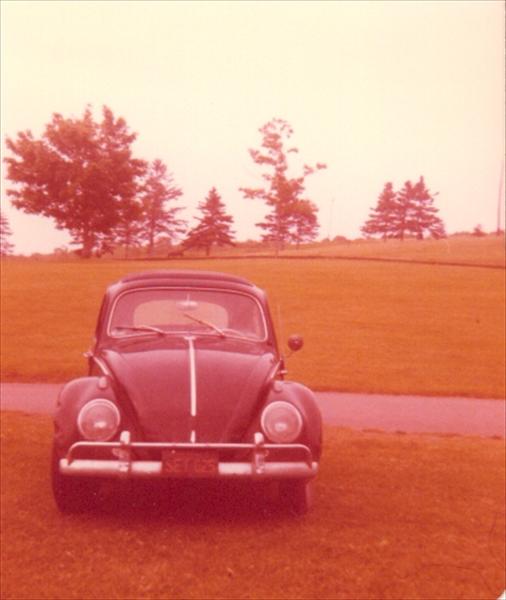 Later I drove Betsy through 25 states and she died in the town of Normal, Illinois, in late 1985. I sold her to a kid named Derrick for $50.
My second bug had been my grandmother's, and when she died in the late 80's I inherited it. That car was known as "Rog."
I had it with me until I was living in Philadelphia in 1997, when Michelle and I sold it because we were broke. It was a sad.
My third bug I bought when living in L.A. and Burbank in 2000. It was named "Vato," because it was a very Mexican-seeming bug – it had been "lowered" and had one of those vato-ized, mini steering wheels. But it was a good car.
It caught on fire and died on the 134 Freeway near Glendale, I think, one day when my dad was driving it.